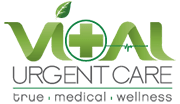 2507 Eastbluff Drive
Newport Beach, CA 92660
REFUNDS
It is the policy of Vital Urgent Care that payment is due at the time of service unless other financial
arrangements are made in advance. We require all patients to pay their deductible, copay and/or
coinsurance payment at the beginning of each visit. At the conclusion of your visit with us you may be
billed for any outstanding balances. If there is a credit balance, you will be provided a refund promptly.
When your account is reviewed and a refund is approved, we will initiate the refund to your credit card (or
original method of payment). You will receive the credit within 7-10 days, depending on your card issuer's
policies.
All charges for services rendered are final.
Contact Us
If you have any further questions regarding your payment for services received, please contact our office at
(949) 200-1655 or via email at info@vitalurgentcare.com